A moroccan poem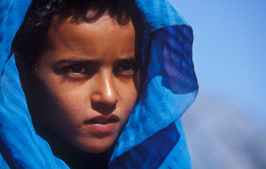 Walk of wild love That a day the crow whitens, and that this day one says you: 'The sea to dry is fallow, and this is the honey that one draws in the middle of the pink bay leaf, and one finds the acacia without thorn and the snake without venin, inoffensive the bullets, and that the powder to the flames does more not break itself' : I no longer want to leave you, my love, that that day!
When the moon climbs to the sky, that I heard it to say, and that the mouflon, o God, will drink while running, me I await it one upstream, this beautiful game that I aim, I say to the Jew: 'Pulls therefore! What your notch be evident! '! 'I raised, he says, the chien,mais my weapon loosened taken. .." During, I spoiled the mouflon, that buried itself while climbing.
Goes you in, o you that says: Love is without cloud! What it be you fish of now that slips between two waters, wing of ignorant grasshopper the rest, hawk that takes the escape to the more top of the clouds, unending way where your effort exhausts itself, or abrupt climbed where cracks your momentum, or well again dune where the sand gets stuck you, cliff of the fear or snake stomach!
Berber text anonymous, collected chleuh to Assa (Circle of Goulimine), in 1939, and translates by Vincent Monteil