Brahim ERRACHIKI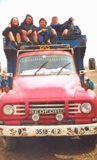 Brahim is the Founder and Managing Director of Mountain Safari Tours and has 20 years experience in tourism industries. Brahim has held a Diploma in Tourism since 1985 and also worked as a Managing Director for 8 years in a french travel agency specialising in discovery holidays and operating for many years with British and American tour operators.

He decided to share his adventure travel, events and original trips all over Morocco.
Brahim Aït Ouaarab
Native of the Marrakesh High Atlas Mountains, 10 years in the team. Tour leader in mountains and desert, athletic educator of the Royal Federation of the Mountain leaders, skiing and climbs. Brahim loves his job as an expedition leader, his long experience in the field, combined with his sense of humor and love of adventure, make him one of the best qualified tour leader in Morocco.
His biggest qualities : His concern of the detail and work well does. His professional conscience and the passion of his job ... specialist of birds.
Nezha Abdalaoui
If you call our office you may well speak to her. Nezha had a diploma in marketing and managment, she looks after trips' budget, logistic, equipment and food. She did a good job.
Brahim IHAZMAD & Mustapha ALTINI
Well experienced camp staff with a good knowledge of cooking and adventure tours equipment.
Ali wa great knew the answer to all questions we had and he enjoyed telling us about history, traditions etc gave us good tips. super friendly. He helped make the trip great. Mohammed always ...&nbsp

Donna from New Zealand March 2014