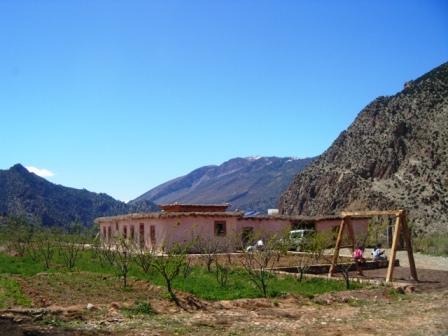 ECOLODGE, Guest House in Central High Atlas at Ait Bougmez 'Happy valley' DAR AYA ATLAS.
An ideal guest house for exploring the region of Central High Atlas mountains, Berber's customs and traditions.
An ecotourism experience in a unique location surrounded by mountains, gorges and summits. A home manager based on good quality : culture, environment, architecture.
A guest house with realy a panoramic view on M'Goun Summit, Azurki mountain,Ait Boulli and Aït Bougmez valley ...
Travel on mesure + Adventure travel = Trek-lodge
you love
The approach of the traditional life of the Berber mountains
The quality of your guide who is Berber and specialist in these mountains
The exceptional location of your accommodation between mountains, near gorges, valleys and villages.
To those who like to travel on foot, we offer new paths crossed those of Trek -lodge that reconcile your days and nights.
Go on love, family or friends, in conditions of perfect comfort in places such as still outstanding at the date of your choice, and hikes of various levels is now possible.
We provide all the logistics:
Accommodation, camping equipment, meals, luggage transfer, Transport, accompanied by a guide or help with a detailed road book.
Please for more details just contact us at info@mountainsafaritours.com