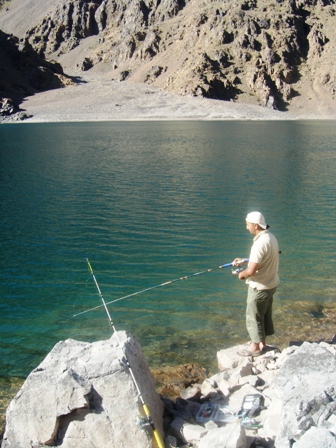 Fishing trip
4 Days Marrakech – Aneghmar – Ouarzazate - Marrakech
Does fishing belong to your hobbies?
With Mountain Safari Tours you can experience the real meaning of adventure. In addition to the common trips that the Mountain Safari Operators work on there is another seasonal trip from Marrakech to Ouarzazat through the most worthy-looking places in Morocco.
Day 1
After we meet our clients in the given address we head to Ouarzazate .The first stop will be in Zat valley where you can enjoy your fishing talent. After having lunch there we visit Zerktan to rejoin the national road heading to Ouarzazate through Tichka pass (2260m).A bit change in direction to Telouat in order to spend the camp night near Tighza village.
Day 2
At 7h00 morning we start walking and our camping equipment carrying by mules heading to Ounilla Valley. After 5 hours of walking we stop at Aneghmar Lake (2600m) where we can settle our camp to have lunch and have amazing fishing evening in the lake.
Day 3
At 07.00 am we head back down to Tighza village for lunch. After changing the traditional mean of transportation by 4x4WD we Cross the Ounilla River straight to Telouate ,Ait benhaddou. Then we head to the Hotel for taking off our package and have break. At 06.00pm we take another direction to the barrage of Almansour Eddahbi. Enjoy your fishing talent in this barrage till 08.30pm to get back to the hotel to spend the night.
Day 4
At 09.00am we leave the hotel to visit the Kasbah Taourirte in Ouarzazate. At 10.00am we take the direction back to Marrakech. The first stop is in the marvellous Tichka Mountains where you can capture the memorized pictures. And after having a lunch in local restaurant in Taddert we return back to Marrakech. Our trip ends today after taking you to the hotel Then we say goodbye.
Please contact us for other itineraries and quote you will findout more.