Moroccan Horse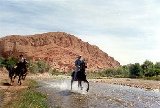 The Arab beard, the horse known qualities, the war horse, horse parade and Fantasia, but also a tireless traveler at the foot secure and agile, solid and sober companion cope with the harshest conditions.
Many opportunities for those having the passion to travel on the horse back.
For further details please contact us.