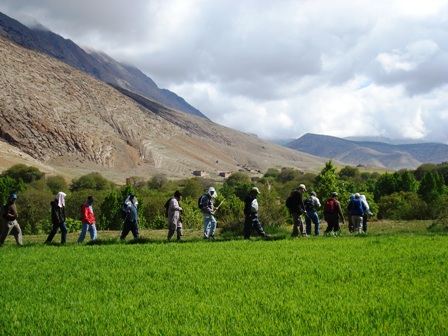 Trekking, Mountain Biking,
Horse Riding,
Quad Biking,
Team Building,
Golfing Holidays,
Balloons,
Multi-activities ... and camps.
In Rif mountains, High & Anti-Atlas mountain chains and the Sahara with its wide and wild space, the Mediterranian and Atlantic coast with new and updated itineraries. The traverse of the mountains, desert, beaches accompanied by qualified guide to the discovery of a berber and nomad population welcoming and attaching, cross passes, summits, deep and beautiful valleys with countless villages of earth and stone, oasis and silence of the desert, out of Time, wild beaches with its small sea port and dilicious fish Tagines, to discover a preserved and natural world, meet the true and original face of Morocco, such are the purposes of these trips.
Djebel TOUBKAL, Djbel M'GOUN, Djbel SIROUA, Djebel SAGHRO, Djbel LIKEMT, Jbel ZIREG, ...
We ensure that your adventure trips, between friends or in family (the children are welcome) occure under very good conditions. The portage being assured by mules, camels, 4x4, lorries etc. You will overnight in berber houses or in camps, the meals will be prepared by our local experienced cook and staff. The length of these adventure trips is variable (long weekend, one, two or three weeks) depending on your travels choice.
'CONTACT US TO FIND OUT MORE'